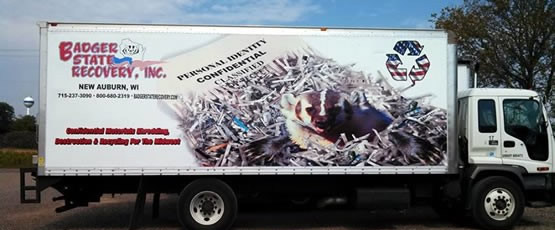 Is Off-Site Shredding Better Than On-Site?
Off-site shredding allows for high capacity industrial shredder to do hundreds of pounds a minute while a truck has a limited capacity and the service is very labor intensive and expensive. You are looking at 35 to 60% more cost! Take a look at both shredding services:
Off-Site Shredding Service:
This is very affordable, 35 to 60% Less than on site shredding
High capacity industrial shredder at the secure plant can shred a full truck load in under 30 Minutes.
All plant employees are background checked and screened randomly and annually.
Plant is secured 24/7/365.
All Material is shredded same day as soon as the material comes off truck its straight to the shredder.
100% secure.
100% recycling.
On Site shredding Service
Shredding service is done by a truck at your facility and by a driver who will bring the material to the truck one bucket at a time.
Often the truck appointment is done by day and not time specific.
Billing is done by time allowance, often allowing for 15 Minutes then the customers are billed by the minute.
Transportation and fuel surcharges are added, often not included in quote. This is usually 17 to 38% of total invoice.
Trucks have high maintenance and noisy to operate.
Trucks have to be idling to run shredder increasing carbon footprint.
Trucks park in your lot taking up valuable space for your customers or employees.
The choice often depends on the customer's budget, do you want to pay more to see and hear your document shredded in front of you? The average company these days cannot afford to throw money away so off-site shredding is becoming more and more popular and here are few reasons why:
It is Affordable
Beats shredding documents yourself and be tied to a shredder all day!
Secure
100% recycling
Did I mention it is Affordable?
Thank you from the professionals at Badger State Recovery, your regional recycler.