Badger State Recovery Document Shredding
Protecting the environment, you & your customers.
Badger State Recovery's recycling programs not only protect the environment, additionally we provide protection and peace of mind for your business and customers through confidential document shredding. For many years financial institutions, medical facilities, attorneys, accountants, government departments, insurance centers, administrative offices, casinos and many other types of businesses have trusted Badger State Recovery with the secure destruction of their sensitive and confidential documents. Whether you need weekly, monthly or annual service Badger State Recovery will provide a service schedule to coincide with your workflow. There is no paper purge too big or too small!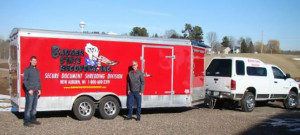 A difference your business can rely on
The most unique attribute of our document destruction process is the chain-of-custody. We securely deliver your sensitive documents from the time they are removed from your business to when they are destroyed and baled in our secure facility. The bales are then transported to the mills by our fleet, not outsourced trucking firms, to become recycled new fiber products. We DO NOT send destroyed confidential documents to the landfill or subcontract out to third party processing plants. Can your current service provider deliver this level of security?
Providing credentials to meet your needs
Our Complete Document Destruction Process
True destruction of your sensitive confidential media is facilitated by an incredible 175 horsepower industrial shredder capable of destroying up to 7,500 pounds of paper documents per hour. This system utilizes a unique industry leading screen pass method that continues to destroy your documents until they are small enough to pass through the shredder's small restrictive screens. From this step, your destroyed information is automatically fed into an auto-tie bailing system where it creates 1000+ pound bales of waste paper to be recycled. The final production step involves our own in-house trucking fleet known as BSR Transport, Inc. This team of dedicated fleet semis are solely responsible for the safe delivery of our baled waste paper products to various reputable mills. This is where your destroyed private information is recycled and re-pulped into new fiber containing consumable products, never land-filled!